Top-Rated Boulder Auto Mechanic for Over 20 Years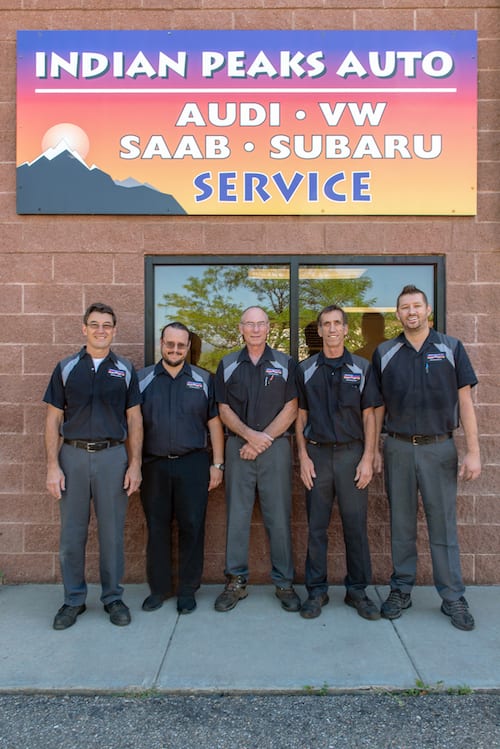 Indian Peaks Auto started in Boulder, Colorado in 1995 to provide extraordinary service, tremendous value, and create lifelong customers. To this day, the Indian Peaks Auto team remain focused on delighting Boulder's foreign car owners by making their cars run better, safer, and smoother at the best possible price and with a feeling of trust.
The Expert Auto Mechanic Team at Indian Peaks Auto
The Indian Peaks Auto mechanic team offers 100 years of combined experience in foreign car maintenance, inspection, service, and repair. You will not find a more qualified group to work on your Volkswagen, Audi, Saab, Subaru or Eurovan vehicle!
100 years combined auto mechanic experience
VW Master Technician
Saab Qualified Technician
ASE Master Technician
Certified A&P Mechanic
Certified Audi Technician
Certified VW Technician
Certified Saab Technician
With a long-term commitment to auto technician, mechanic, and service careers, we are proud of our Indian Peaks Auto team and all they have to offer customers in Boulder and beyond.
Jamie Hess
Saab/VW/Audi Specialist
Jamie moved to Boulder, Colorado in 1979 and soon began working at Boulder Valley VW/Saab as a VW/Saab technician for 10 years. Jamie received his VW Master Technician and Saab Qualified Technician rankings plus his ASE Master Technician status.
In 1989, Jamie worked and ran Scandinavian Auto until 1995 when he opened Indian Peaks Auto Repair in Boulder.
Tod Ralston
Saab/VW Specialist
Born in Chicago and moved to Colorado in 1976, Tod worked at Boulder Valley Volkswagen and Saab as a technician and then shop foreman until 1989. Fulfilling a goal to work at an independent auto shop, Tod helped open Indian Peaks Auto Repair in Boulder in 1995.
Tod is a VW Master Certified Technician and certified A&P Mechanic. He has crewed with Vanderhoof Racing at 24 hours of Dayton and 12 hours of Sebring in GT3 category.
Kevin Mansfield
Indian Peaks Auto Service Advisor
Kevin started working in the automotive world at Worldpac as a key carrier in 2006. Before that he has spent most of his career as a delivery driver. He is currently taking college courses for Business Administration at Capella University. He is originally from Aurora CO where he grew up and lived most of his life. In 2007 Kevin moved with his wife Erin, and their daughter to Longmont. He and his family enjoy bicycling, hiking, camping and barbecuing. Kevin is an active member at Central Longmont, and enjoys spending time with friends during down time.
Jim King
Jim moved to Colorado to study at the Denver Automotive & Diesel College and quickly caught the "ski bug" and didn't want to leave. Jim started as a technician at a Porsche-Audi dealer in Denver, working hard and studying to stay current in the latest automotive industry technologies and trends.
Having lived now in Boulder for more than 20 years, Jim continues to enjoy Colorado for all the outdoor activities it offers including snowboarding, fly fishing, and mountain biking.
Adis Bevab
In 2001, Adis moved to Boulder from Germany. Adis graduated from Boulder High School in 2005, went on to Denver Automotive and Diesel College/Lincoln College of Technology, and began working as an apprentice at a Boulder Saab and Porsche dealership in 2008, During his 10 years auto service career, Adis has completed Saab, Audi, and VW Certifications.
Foreign Auto Repair Serving Boulder, Erie, Lafayette, Louisville, Broomfield, and Beyond
For more than 20 years, Indian Peaks Auto has offered expert service and tremendous value for foreign cars throughout Boulder County.
We use the latest in diagnostic technology, provide professional and knowledgeable service, and deliver a quick turnaround for:
Volkswagen | Audi | Saab | Subaru | VW Eurovan | and many more foreign auto brands!
Bring Your Foreign Auto to Us
Indian Peaks Auto delivers the expertise, fair pricing, and fast service you need!