Don't Hit the Road Without a Pre-Trip Inspection!
Boulder, Colorado's Comprehensive Auto Trip Inspections Keep You Safe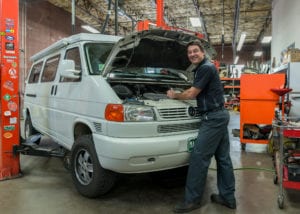 Whether you're driving home after a year at CU Boulder, headed for a mountain getaway to ski, or driving away on a vacation, it's time to have your car inspected and serviced!
Get Peace of Mind and a Better Performing Car
According to the American Automobile Association (AAA), a vehicle inspection before a road trip is essential as cars more than 10 years old are twice as likely to end up broken down and stranded. A professional, thorough checkup of your vehicle can minimize risk and reduce the chance of a breakdown.
Whether your trip is 20 miles or 200 miles, avoid the risk of having problems down the road. Indian Peaks Auto offers thorough pre-trip inspections. This will help give you peace of mind while traveling with your family. Or help a parent rest easier while your student is heading home from the University of Colorado.
Total Trip Inspection Service in Boulder, Colorado
Indian Peaks Auto has provided outstanding car service, including trip inspections, in Boulder for more than 20 years. Our team of technicians specialize in Volkswagen, Audi, Saab, Subaru and Eurovan models and offer expert, professional service and great value.
Road trip inspections or pre-trip inspections of any kind include a wide range of evaluations and tune-ups to make you feel great before hitting the road. Our trip inspections involve checking and fixing all the vital functions of your vehicle.
Battery check
Heating, ventilation, air conditioning system check
Tire pressure and tire condition check
Brake pad inspection
Engine coolant, coolant hoses, and belts check
Fluids condition and levels check
Wiper blades check and washer fluid check
Exterior lights check
And more!
Call us at (303) 413-1163 to schedule your trip inspection! We provide fast auto inspection, maintenance, and repair services that fit in with your schedule and will get you on your way in no time!
Foreign Auto Repair Serving Boulder, Erie, Lafayette, Louisville, Broomfield, and Beyond
For more than 20 years, Indian Peaks Auto has offered expert service and tremendous value for foreign cars throughout Boulder County.
We use the latest in diagnostic technology, provide professional and knowledgeable service, and deliver a quick turnaround for:
Volkswagen | Audi | Saab | Subaru | VW Eurovan | and many more foreign auto brands!
Every service comes with a one-year, 12,000-mile warranty on all work!
We are conveniently located at 5757 Arapahoe Avenue in Boulder, on the north side of Arapahoe, across from Flatirons Golf Course. Commuting into Boulder from Erie, Lafayette, Louisville or Broomfield? We're on your way! Pick up a rental car at Enterprise Car Rental nearby or bike to work on Boulder Creek path, right behind the shop.
Call us at (303) 413-1163 to schedule a check-up, maintenance, or repair and we'll get you – and your car – on your way with local service you can trust.