Experience Expert Eurovan Service Right in Boulder, Colorado
Our Eurovan Specialists Keep You on the Road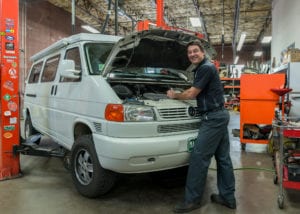 Maybe you just haven't been able to let go of your Volkswagen Eurovan. Or you've never had one but now is the time to get on the road and see this expansive country. No matter how or why you bought your Eurovan, once you have one you'll be a fan for life! The Eurovan, by nature, is a vehicle that needs to be well maintained to allow you to get when, where, and for how long you want. Indian Peaks Auto understands and specializes in Eurovan service!
Benefit from Boulder's Best Eurovan Service
The Eurovan comes from different eras and in different models. Some are imported, some have been modified, but all are unique! The Eurovan is built for the open road and is ideal to take in the sights and activities available in Boulder and throughout Colorado.
Because Eurovan is typically an older vehicle, reliable maintenance and repair are critical for enjoyment and safety. Whether you are a CU student heading home for a break, a family on a summer vacation or making your way to a music festival, you want to be sure your Eurovan is ready for the trip.
At Indian Peaks Auto, we offer full pre-trip inspections. That plus regular maintenance will keep your Eurovan reliable, safe, and fuel efficient. Engine lights on, squeaky brakes, bouncing movements, strange noises or leaks of any kind mean you need the high-quality Eurovan service available at Indian Peaks Auto!
Excellent Eurovan Service in Boulder
Indian Peaks Auto has served Boulder for more than 20 years and offers over 100 years of combined technician experience. As one of Boulder's top-rated auto shops, we pride ourselves in providing rare, high-quality Volkswagen Eurovan diagnostics, maintenance, service, and repair!
Scheduled maintenance
Inspection and repair
Brakes, adjustments, brake pads
Oil & filter change
Clutch
Electrical system
Engine services
Heating & cooling systems
Timing belt
Tire inspection, rotation, replacement & repair
Transmission services
Water pump
Pre-purchase inspections
Trip inspections
Foreign Auto Repair Serving Boulder, Erie, Lafayette, Louisville, Broomfield, and Beyond
For more than 20 years, Indian Peaks Auto has offered expert service and tremendous value for foreign cars throughout Boulder County.
We use the latest in diagnostic technology, provide professional and knowledgeable service, and deliver a quick turnaround for:
Volkswagen | Audi | Saab | Subaru | VW Eurovan | and many more foreign auto brands!
Every service comes with a one-year, 12,000-mile warranty on all work!
We are conveniently located at 5757 Arapahoe Avenue in Boulder, on the north side of Arapahoe, across from Flatirons Golf Course. Commuting into Boulder from Erie, Lafayette, Louisville or Broomfield? We're on your way! Pick up a rental car at Enterprise Car Rental nearby or bike to work on Boulder Creek path, right behind the shop.
Call us at (303) 413-1163 to schedule a check-up, maintenance, or repair and we'll get you – and your car – on your way with local service you can trust.