Got A Saab? We've Got You Covered!
Superb Specialized Saab Service in Boulder, Colorado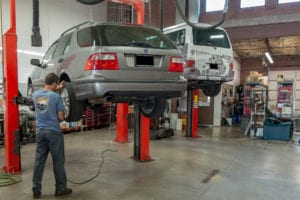 Whether you've been a Saab owner for decades or you've just got your first Saab to stand out from the crowd, we bet you are a proud and loyal champion of the Saab brand. Saab is a unique, European car with a long and interesting history. Owners today want to keep their Saabs running in the best possible condition but may also be uncertain about where to get it serviced. If this is you, Indian Peaks Auto is the place you want to be!
Feel Certain About Our Excellent Saab Service
Saab has introduced a wide range of automobiles over the years ranging from sporty to compact, hatchback to a sedan. It is common to see older, imported models, vintage classics, and more recent Saab designs based on General Motors products. No matter the type, Saab owners seek safe, reliable, and solid-handling with their cars!
Like even the best cars, every vehicle will experience problems without regular maintenance and with day-to-day wear and tear. For Saab owners, it can be a challenge to find a reliable service center that understands how to diagnose, service, maintain, and repair a Saab.
Indian Peaks Auto offers more than 20-years' experience in serving the Boulder community and surrounding areas, keeping Saab cars safe, efficient, and with great performance. Our team can service any Saab make or model and has the technical experience, great value, and outstanding warranty to ensure you feel confident with your car!
Indian Peaks welcomes customers from East of Sweden
After 25 years of helping Boulder-area Saab owners, East of Sweden had to close its doors. If you were a former East of Sweden customer and still love your Saab, we would be happy to continue providing great service for your Saab here at Indian Peaks Auto!
Specialized Saab Service in Boulder
The team at Indian Peaks Auto has more than 100 years of combined technical expertise and is proud to service Boulder customers as one of the area's top-rated auto shops for Saab service!
Our full team of Saab service mechanics is here to provide you with fast service, professional insight, and quick repair that you can trust out of our established Boulder, Colorado shop.
Scheduled maintenance
Inspection and repair
Brakes, adjustments, brake pads
Oil & filter change
Clutch
Electrical system
Engine services
Heating & cooling systems
Timing belt
Tire inspection, rotation, replacement & repair
Transmission services
Water pump
Pre-purchase inspections
Trip inspections
Foreign Auto Repair Serving Boulder, Erie, Lafayette, Louisville, Broomfield, and Beyond
For more than 20 years, Indian Peaks Auto has offered expert service and tremendous value for foreign cars throughout Boulder County.
We use the latest in diagnostic technology, provide professional and knowledgeable service, and deliver a quick turnaround for:
Volkswagen | Audi | Saab | Subaru | VW Eurovan | and many more foreign auto brands!
Every service comes with a one-year, 12,000-mile warranty on all work!
We are conveniently located at 5757 Arapahoe Avenue in Boulder, on the north side of Arapahoe, across from Flatirons Golf Course. Commuting into Boulder from Erie, Lafayette, Louisville or Broomfield? We're on your way! Pick up a rental car at Enterprise Car Rental nearby or bike to work on Boulder Creek path, right behind the shop.
Call us at (303) 413-1163 to schedule a check-up, maintenance, or repair and we'll get you – and your car – on your way with local service you can trust.