Quick and Accurate Saab Repair in Boulder, CO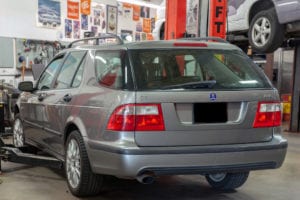 There are plenty of good reasons why Saab is a preferred car among Colorado drivers. Even though none have come off the assembly line in almost a decade, Saabs are so well-built, they stand up to just about anything Colorado has to offer. If you drive an aging Saab, chances are good it will last a long time, provided you take care of it properly.
Common problems that may affect your Saab
According to CarProblemZoo, the most common problems reported by Saab owners involved glitches in the electrical system. Airbag issues, engine cooling problems, and suspension troubles follow close behind. Far fewer Saab owners mentioned problems with their car's parking brake, wheels, or electronic stability control.
A brief history of Saab
Founded in Tröllhatten, Sweden 1937, Swedish Aeroplane Company Limited was –and continues to be-- an aerospace and defense contractor that designs and builds airborne systems, combat weaponry, unmanned underwater vessels, and remotely-operated vehicles for military and civilian use. The Saab automotive division was a direct offshoot of SACL that manufactured high-end automobiles from 1947 through 2012. Saab discontinued car making in 2012 to focus on aerospace and defense contracts.
As some of their slogans suggest, they are high-quality, high-performance vehicles:
The Swedish Car with Aircraft Quality
The most intelligent cars ever built
Find your own road
People Who Test Drive a Saab, Usually Buy One
Saab. It's what a car should be
The Command Performance Car
Colorado driving challenges
With mountain passes, the full force of four seasons, and a seemingly constant state of construction driving in the Boulder area poses a lot of challenges and things to keep in mind. Here are some items to think about before you hop in your Saab for a drive:
Icy roads
Slippery, icy roads are a major source of concern for Colorado drivers. Spin-outs, crashes, and multi-car pileups are common news during wintertime months. In some higher regions of the state, such as Vail, icy roads can be a problem any time of year.
Mountain passes
Colorado boasts some of the steepest mountain passes in the world. Rabbit Ears Pass, Wolf Creek Pass, Douglas Pass, and Vail Pass are beautiful roads, but they can cause issues with your Saab or other foreign car any time of year. To lessen risk to your automatic transmission, reduce speed and downshift into second gear prior to proceeding down a pass. Resist the urge to speed down a mountain, and never exceed the posted speed limit, advise mountain pass driving experts at USA Today Travel Tips magazine.
Ice in the fuel lines
Unless your drive your Saab in Antarctica, the gasoline in your tank will never freeze solid. Not so with the moisture that may remain in gas lines after a winter drive. To lessen the odds of this happening to your Saab, keep at least half a tank of gas in your car at all times, advises the Car Care Council.
Wiper woes
Sub-zero temperatures can wreak havoc on your rubber, especially when it's the thin stuff used to make all-year window wiper blades. So can Colorado sunshine. Certain washer fluids that thicken at low temps may also be problematic in cold weather. To avoid these problems, inspect your blades at regular intervals and use a bug wash windshield fluid made for cold weather temperatures.
Shuddering serpentine belts
Because your Saab is an older vehicle, the serpentine belts that drive your engine may become brittle or even break, especially when the temperature drops. A frigid belt won't bend, explains Car and Driver, so be sure to take your car to a qualified service center that has the skills to inspect your serpentine belt and everything else under the hood before winter arrives.
Super cold temperatures
When the mercury drops, a number of car-related issues may arise. Icy temps may deflate your tires due to pressure changes within the walls, explains Car and Driver magazine. On snowy mornings, dead batteries are a common problem that affects Colorado vehicles.
When the weather is super cold, your engine may struggle to pump oil. To reduce the chances of this happening to your Saab, follow manufacturer's instructions regarding winter weight oils, or make the switch to synthetic oil.
Wandering wildlife
When driving Colorado roads any time of year, always be on the lookout for elk, deer, and other animals that may wander into your path. If you see ducks or geese walking across the road, stop, turn off your engine, and allow them to pass peaceably.
Boulder, Colorado driving tips for Saab owners (and everyone)
Colorado law firm, Bachus & Schanker, offers these savvy driving tips for anyone who lives and drives in the Centennial State:
Be patient and slow down
No matter how eager you are to get to the slopes, slow down and take your time. Icy roads are no place to hurry, especially on curves and grades.
Avoid distractions
When you drive your Saab, put away your phone and don't give it any attention until you've parked your car. Distracted driving is a serious issue in Colorado and elsewhere.
Don't tailgate
Even if the car ahead of you is traveling at a snail's pace, practice patience and don't try to hurry them along. You'll get there eventually, and you'll spare your nerves in the process.
Heed road signs
If you see a sign that says chains are required, pull to a safe spot and put on your snow chains.
Don't depend on brakes to slow you down
On icy or steep Colorado roads, your brakes may become virtually useless. If your car begins to slide sideways, don't slam on the brakes. Doing so can make matters worse. Instead, gently pump standard brakes or apply steady pressure to anti-lock brakes.
What to Do if You Need Saab Repair
No matter how well built a car is, and how well it is maintained, there will come a time when you require Saab repair or service. That's why you'll want to get to know the Indian Peaks Auto team. We offer superb Saab service throughout the Boulder area every season of the year. Whether you live and drive in Boulder, Erie, Louisville, Broomfield, Niwot, Ward, or Lafayette, Indian Peaks is the company to call on anytime your beloved Saab experiences issues.
Year 'round services we provide at Indian Peaks
Saab maintenance and repair
Brake inspection
Brake adjustment
Brake replacement
Clutch work
Electrical system diagnosis and repair
Heating and cooling system diagnosis and repair
Tire inspection, rotation, repair, and replacement
Automatic and manual transmission services
Water pump inspection, repair, and replacement
Pre-purchase auto inspection
Pre-trip inspection
Every job we do comes with the famous one-year / 12,000 mile Indian Peaks warranty
Indian Peaks Auto can help your Saab or other foreign made vehicle stay on the roads for years to come. To know more, or to schedule a Saab repair service appointment, contact us right away.
Foreign Auto Repair Serving Boulder, Erie, Lafayette, Louisville, Broomfield, and Beyond
For more than 20 years, Indian Peaks Auto has offered expert service and tremendous value for foreign cars throughout Boulder County.
We use the latest in diagnostic technology, provide professional and knowledgeable service, and deliver a quick turnaround for:
Volkswagen | Audi | Saab | Subaru | VW Eurovan | and many more foreign auto brands!
Every service comes with a one-year, 12,000-mile warranty on all work!
We are conveniently located at 5757 Arapahoe Avenue in Boulder, on the north side of Arapahoe, across from Flatirons Golf Course. Commuting into Boulder from Erie, Lafayette, Louisville or Broomfield? We're on your way! Pick up a rental car at Enterprise Car Rental nearby or bike to work on Boulder Creek path, right behind the shop.
Call us at (303) 413-1163 to schedule a check-up, maintenance, or repair and we'll get you – and your car – on your way with local service you can trust.