Top-notch Subaru Brake Repair in Boulder, CO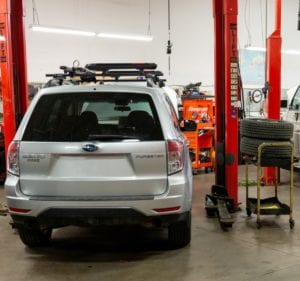 For the past 35 years, Colorado has had a love affair with Subarus. In fact, Subaru is often referred to as the "state car" of The Centennial State. Of course, it's easy to see why. With Subaru's perfect blend of all-weather capabilities and modern comforts, it's the perfect car to explore the wild, often rugged, nature that encompasses Colorado.
But, if there's one place in Colorado that's absolutely dominated by Subarus, it's Boulder. In fact, it's difficult to drive down the street in Boulder without seeing at least one Subaru darting past your window, and the average stoplight is speckled in a rainbow of these outdoor-ready vehicles.
Subarus are perfect for those outdoor trips into the great Colorado unknown. But, nothing is worse than driving down that snowy dirt road only to discover that your car's brakes aren't performing as they should. Break service is incredibly important for every car, but it's especially important for all of the Subaru owners who are using their ride to adventure around Colorado's gorgeous outdoors.
When to Check Your Subaru Brakes?
While Subarus are built-to-last, they aren't invincible. Every car runs into a little trouble sometimes, and it's mission-critical to address that trouble immediately — especially if it has to do with your brakes. If you notice any of the following problems, you need to get your brakes checked as-soon-as-possible.
You hear strange noises coming from your brakes (e.g., grinding, growling, hissing, etc.)
Your car starts pulling to one side or another when you tap the brakes.
The car starts vibrating when you push on your brakes.
If your car's brakes aren't as responsive as they used to be or it takes too long to brake.
You see that your brake pads aren't as thick as they once were (under 1/4 inch thick)
The brake light is lit up.
Remember, your brakes are an essential part of your vehicle's safety, and any sign of brake failure is an emergency. In fact, we always recommend that you get an inspection before you go outdooring. It can help ensure that your brakes are working properly, and it can prevent you from running into any engine issues halfway up that snow-drenched mountain peak.
How to Choose the Right Mechanic
When you notice brake issues on your Subaru, you'll need to make an appointment with a mechanic as-soon-as-possible. But, who do you choose? Who can you trust?
At Indian Peaks Auto, we're dedicated to helping you get your Subaru back on the road in peak condition without all of the hassles. We know! Going to the mechanic can be an annoying experience. You're worried that your mechanic will try to tack on additional charges and rack up your repair bill. But, we've been winning Boulder, Colorado's trust for over 20 years for a reason, we do things a little differently. That means no strange charges, no unnecessary "fixes" and incredibly reasonable prices.
Each of our brake tests is backed by our best-of-breed warranty (that's 12-month, 12,000 miles!) and our impeccable commitment to customer service. We know that you can take your business anywhere, so we make sure that we deliver above-and-beyond on every brake repair.
Our team offers over 100 years of combined experience — that's 47 years longer than Subaru has existed! — and we ensure that every trip to our center is as pleasurable as the last. We don't want you for one brake check; we want you for life. We'll win your trust, and have your car back on the Colorado roads in tip-top shape.
How We Handle Subaru Brake Repairs and Checks
At Indian Peaks Auto, we don't just change your brakes — we fix your problem.
Our Subaru brake repair service starts with our advanced auto diagnostic, which is applied by a team of Subaru experts with a century of combined experience under their belt. These are everyday Colorado citizens with a penchant for Subaru vehicles and auto repair. We will check your brake pads one-by-one, ensure that each one is at optimal performance and there's no sign of extreme wear-and-tear. Next, we inspect the ABS braking system from top-to-bottom. ABS is particularly vital for Coloradans, who deal with weather ranging from rain to snow (and everything in-between). Afterward, we resurface brakes wherever possible and address any other critical issues that may be impacting your brakes.
Then, once we've finished repairing or replacing your brakes, we reset all of your warning lights and hand you the keys. It's that easy!
But, we're not done yet! Our service is going to blow you away, and our customer-centric attitudes and reasonable prices are going to keep you coming back. Sure, we may not see you for a few more years. But, any time you end up with issues on that Subaru, you're going to remember us — we promise.
Remember, each of our services is backed by our incredible warranty. So, if you notice any issues with those brakes in 12 months, bring it back. We'll fix it up free-of-charge.
Contact Indian Peaks Auto
Are your Subaru brakes making strange noises, sinking to the floor, or giving you any other issues? Don't wait! Those brake problems can turn into brake emergencies rapidly. But, don't worry! We're here.
For the past 20 years, we've been servicing Volkswagens, Subarus, and Audis. Today, we even service Eurovans, Porsches, Saabs, and other foreign cars. Whether you live in Boulder, Erie, Lafayette, Louisville, Broomfield or beyond, we're eager to help. We'll give you the service you want at the prices you need. Plus, we'll throw in a warranty to back it up.
We know we're the best Subaru brake repair people in Colorado. Let us prove it.
Ready to discover the difference for yourself? Want to know what honest service and quality mechanics can do for you? Are you looking to get your brakes fixed? Contact us.
Note: We don't only service brakes! Have another issue? We've got you covered. From engine repair to simple tire rotations, we can tackle almost any problem. And, better yet, we'll throw in a warranty for every single issue we correct. That's 12-years, 12,000 miles on each service — no matter the issue.