Welcome, Wolfsburg Autowerks Customers!
A message from Mark, owner of Wolfsburg Autowerks
Thanks, everybody, for your continued support. After 20 years of caring for your cars, I am going to retire and take some fun-filled trips of my own with my camper. Luckily, you and your cars will be taken care of. We've worked it out with Indian Peaks Auto to keep your cars running smoothly. Jamie Hess and the capable Indian Peaks Auto team will be able to take care of all of your future needs.
A message from Jamie, owner of Indian Peaks Auto
Welcome to the Indian Peaks Auto family! We know that oftentimes, your car becomes an extension of your family, and we will do everything in our power to take care of your four-wheeled family member. To welcome you to Indian Peaks Auto, we will be offering a first time 10% off parts and labor to all Wolfsburg customers who check us out. Thanks so much for the opportunity to serve you!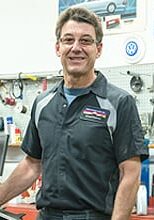 10% off parts and labor to all
former Wolfsburg Autowerks customers
on your first visit to Indian Peaks Auto
To schedule a repair or service for your Audi or Volkswagen, call us at (303) 413-1163 or schedule a service online. We are here to provide you with fast, reasonable, high-quality foreign auto repair in Boulder!